The most important ingredient that Sarah adds to all of her work is very special indeed - 100% pure love. She pours it in by the bucket load to make sure that you can taste it in every bite. Delicious treats that are packed full of goodness is what you can expect every-time you pick up something made by Sarah and her small team at Puremelt Chocolate Byron Bay.
Puremelt's 85% cacao chocolate is blended from;
Raw cacao powder
Our Cacao Powder, is obtained from premium Criollo Cacao Beans grown in the Mayan region of southeast Mexico. Cacao is rich in essential minerals, including magnesium, calcium, iron, zinc, potassium and phosphorus. This ancient superfood is rich in antioxidants as well; Cacao beans contain 10,000 milligrams (10 grams) per 100 grams of flavonol antioxidants. This is a whopping 10% antioxidant concentration level! This makes cacao one of the richest sources of antioxidants of any food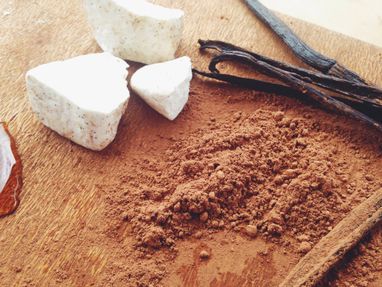 Cold pressed cacao butter
Cacao Butter which we source from Bali, is an important component of chocolate. The first stage in processing Cacao is to grind the Cacao Beans to form a uniform paste. This paste has a natural fat content of roughly 50%. This fat is then separated from the Cacao Paste to obtain pure Cacao Butter.
Mexican dark agave syrup
(Agave Tequilana Weber Azul) Agave Syrup or Agave Nectar as it is also known, is obtained from the sap in the hearts of the agave or maguey plant. One of the unique characteristics of this natural sweetener is that it is slowly metabolized. It has a very low Glycemic Index (GI) compared to sugar, honey, maple syrup or other sweeteners. Our Organic Raw Agave Syrup is produced in Jalisco, Mexico, This is the best agave syrup produced in the region using traditional methods including low-temperature evaporation below 40º.
---
Puremelt drinking chocolate is blended from;
• Coconut palm sugar, harvested by hand, in Indonesia.
• Raw cacao powder from Mexico
Puremelt then add from the range of other exotic ingredients listed here to create the tastes that Sarah is becoming famous for, such as the mouthwatering 'Davidson plum & ginger' – pieces of fresh Byron Shire Davidson plums nestled alongside home-grown fresh ginger caramalised in Indonesian coconut palm sugar and then lovingly encased in puremelt chocolate to make a decadent treat that is actually good for you.
Puremelt also use these outstanding ingredients;
• Cinnamon powder from Sri Lanka.
• Turmeric powder from India / Nepal
• Vanilla powder from India.
• Matcha Tea powder from China
• Cayenne Pepper powder from India.
• Coriander powder from India.
• Cumin powder from India.
• Ginger powder from India.
• Ginger root from Byron Shire, Australia
• Davidson plums from Byron Shire, Australia
• Almonds from Australia
• Hazelnuts from India
• Macadamia nuts from Australia
• Pistachio nuts from India
• Therapeutic grade essential oil of sweet orange from France
• Therapeutic grade Essential oil of peppermint from France
• Raspberries from Australia
• Coffee beans from Australia (Nat Byron's Organic Plantation)
• Cayenne pepper from India
• Black pepper from Sri Lanka
• Cranberries USA
• Shredded coconut from Sri Lanka
• Sour cherries USA
• Orange zest from Byron Shire Australia
• Honey harvested in the Byron Shire Australia
• Oats grown in Australia
• Cardamom pods from India
• Star anise from India
• Cinnamon bark from India
• Eggs from Bangalow, Australia
• Chia seeds from Mexico
Puremelt Elixir is blended from;
• Raw cacao powder from Mexico
• Cardamom from India
• Cinnamon from Sri Lanka
• Ginger from India
• Vanilla from India
• Black Pepper from India
• Essential oil of Sweet Orange from France
• Coconut Nectar from Indonesian
Puremelt's award-winning brownies are made from;
• Puremelt Chocolate
• Butter (salted)
• Coconut palm sugar
• Eggs
• Hazelnuts/Almonds
• Shredded Coconut
• Raw Cacao Powder
• Love (lots of it)
Puremelt's Florentines are made from;
• Puremelt Chocolate
• Oats
• Honey
• Butter
• Coconut Palm Sugar
• Cranberries